YAK MAT offers a full catalog of options in composite matting. These solutions provide ground protection for any industry and any project. Unlike hardwood mats, composites are reusable job after job and significantly lighter in weight, reducing freight costs. Composite construction mats offer many advantages over solid timber especially for projects that require surface decking. These mats are great for heavy equipment and also construction fleet to minimize mud buildup on vehicles.
Both hollow and solid composites are lighter weight, substantially reducing freight costs to and from the job site — and making it easier to maneuver mats during the work.
Composite crane mats are heavy-duty, able to support construction equipment of all types, sizes and weights, with load-bearing capabilities up to 600 psi. Light-duty products are also available for superior performance for less demanding conditions.
Composite rig mats are durable, able to hold up under extreme weather conditions, uneven and unstable terrain and in areas with poor soil composition. Durability also means a very high percentage of recovery after the job.
Composites have excellent environmental protection characteristics. Composites do not rot, are inert and do not absorb contaminates.
Composite access mats prevent vehicle slippage with high-traction surface patterns and tight connections between mats that hold under even the most extreme conditions.
Composite mat systems are flexible, able to be configured for virtually any job requirement.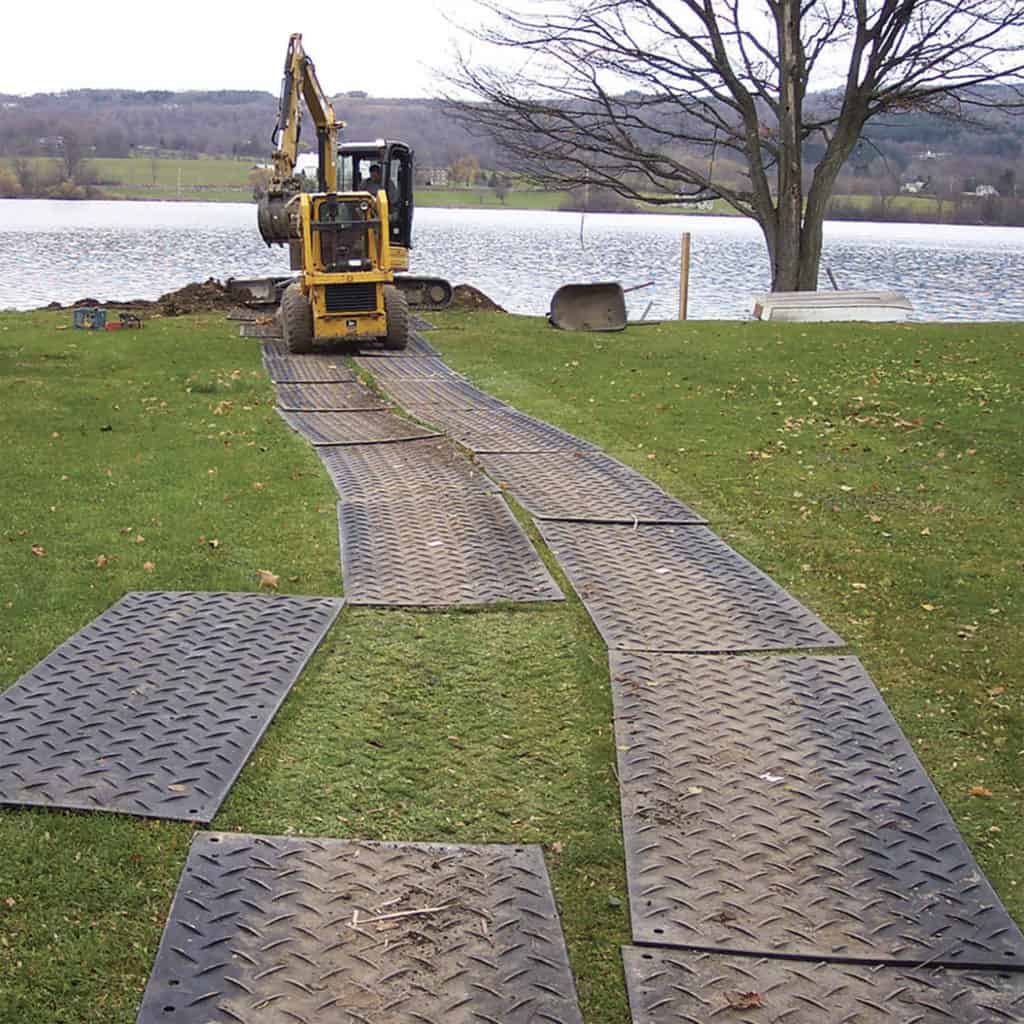 Composite Mats from YAK MAT
We offer a full range of composite construction mats for light- and heavy-duty requirements, and to fit any project budget.
About these Composite Mats
DuraDeck® mats are made from molded HPDE plastic and are widely used for events, to provide portable roadways and ground protection. These mats are extremely lightweight and easy to configure, and can be used for many other light-duty construction requirements.
AlturnaMATS®, made by TuffTrack®, are made from 100 percent recycled HDPE. They are available in black or clear and come with a limited lifetime warranty.
SureTrak® mats, made from virgin or recycled HDPE, are widely used for construction, emergency access and landscaping projects.
TuffTrack® mats are made from a variety of polyethylene materials, and they are available in several strengths and configurations to handle a wide range of heavy-duty job requirements.
MegaDeck™ mats, made from high quality virgin HDPE, can be found on many demanding outdoor construction projects. They are extremely strong, with flexible connection design to enable coverage of large work areas and narrow access routes over non-level terrain.
DURA-BASE® mats are another excellent, field-tested option for heavy-duty, environmentally sensitive job requirements. In addition to construction jobs, these mats are widely used for utility and energy exploration projects.
Composite Mats for Sale and for Rent
YAK MAT offers composite mats for sale, and also composite mats for rent. Contact us now for more information on buying and renting options, or to learn more about composite construction mat products.