Used Access Mats Inventory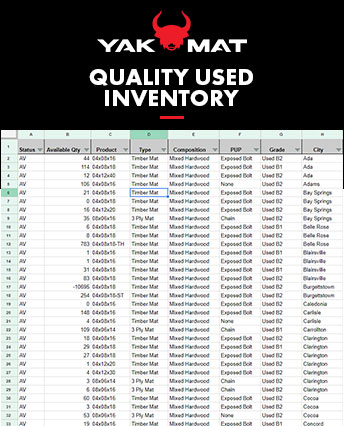 Check Availability to see what's in stock.
View Mat Location to understand logistics.
See Details to find the right mats for your project.
PROVIDE YOUR INFO FOR ACCESS:
YAK MAT's temporary roadway solutions are made from the toughest materials possible with the highest standards of quality. This means that when you're looking for a reliable and economical solution to your project's accessibility challenges, used construction mats from our inventory may be the best solution. Take a look through our stock to find a wide selection of used timber mats, used laminated mats, used crane mats, cull mats and other solutions to meet the demands of your project.
WHY USED MATS MIGHT BE RIGHT FOR YOU
There are a number of reasons used access mats may be the ideal choice for your next job site. These include:
They could save you money — By purchasing or renting used mats, you can take advantage of potential lower prices. The savings can add up and help you control costs in a significant way, especially when you have a larger area to cover.
They help reduce eco-footprint — When you buy or rent from our assortment of pre-owned products, you receive the protection you need to prevent equipment from damaging ecologically sensitive wetlands and other areas. You also effectively recycle existing stock, saving timber as well as other resources used in the manufacturing process.
They're convenient — Because we have locations across the country, there's a good chance that you can find the exact items you're looking for close to your site. This substantially cuts down on shipping costs, allowing you to save even more.
YAK MAT HAS THE ANSWER YOU NEED
We have the industry's largest inventory of new and used mats of all types. With more than 1 million of them stored across North America and ready to go at a moment's notice, you're sure to find what you're searching for here at YAK MAT. We've served the construction market for more than 40 years, so we have the knowledge and expertise to help you complete your work quickly, safely and without harm to the environment.
But we can offer you more than just our high-quality products. We also can provide you with a range of services including logistical support, installation and total project management assistance. When you work with us, you gain a true partner from start to finish. Our network of subsidiaries and sister companies gives us capabilities that go above and beyond what you may expect.
To learn more about our lineup of used construction mats for sale, take a look at our listings. They detail what we have available, where you can find them and other relevant information. Be sure to fill out the contact form when you're ready to get started. Our representatives will be in touch to help you select the type and number of mats you need.